Over the last two decades, biologics have revolutionized the treatment of illnesses such as diabetes, cancer, rheumatoid arthritis and hepatitis. However, many prominent biologics are about to have their patents expire in the U.S., making way for biosimilars.
Biologics:
Biologics come in the form of vaccines, allergenics, gene therapy, tissues or recombinant therapeutic proteins. Many biologics are:
Composed of sugars, proteins, nucleic acids, a combo of all three, naturally produced enzymes or monoclonal antibodies
Derived from living things such as cells, tissues or hormones and produced by biotechnology
Due to their complex nature and high demand, biologics have become very expensive to produce and develop. Since half of the biologics currently on the market are about to have their patents expire, biosimilars are gaining the opportunity to enter the field.
Biosimilars
Biosimilars are mostly known as generic copies of already approved biologics. They are usually manufactured by a different company than the innovator and can only be marketed when the original patent is up.
The FDA has only recently adapted regulations on biosimilars similar to that in the E.U. Because the EMA established a regulatory process of approval for biosimilars years before the FDA, the E.U. currently has 19 approved biosimilars while the U.S. has only one. The following chart is an overview of six standing differences between FDA and EMA biosimilar regulations: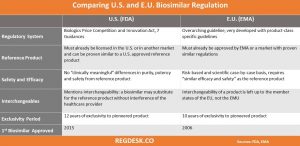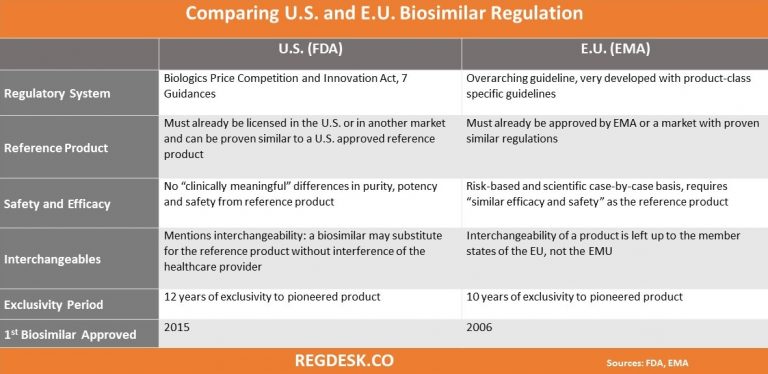 —
RegDesk is an A.I.-powered regulatory intelligence software that offers 24/7 access to the latest regulatory information for over 50 markets worldwide. Our platform eliminates the need for medical device companies to spend months gathering intelligence and preparing their registration applications. Through RegDesk's centralized platform, clients can get access to product-specific registration requirements, expert answers to their most critical regulatory questions, and real-time alerts about global regulatory changes. To experience the power of RegDesk, contact us at desk@regdesk.co or visit www.regdesk.co.