MEDICAL DEVICE REGULATORY CHANGE ASSESSMENT
RegDesk for Medical Device Regulatory Compliance
Requirements changes during a product's life cycle are inevitable. However, tracking and responding to these changes can be overwhelming, time-consuming, and manual.
With RegDesk, you can easily track changes and understand the impact of those changes on a global scale. By eliminating overly complicated back and forth, medical device companies can respond quickly – often saving months of time and hours of frustration.
Managing change assessment had been a burdensome task as we had to reach out to each regional team to manually gather regulatory impact analysis. RegDesk has made that process easier with built-in regulatory analysis. We are saving significant time and resources with change assessments.
Katie, M. Sr. Manager Regulatory Affairs,
Medium size MedTech company
With RegDesk's Medical Device Change
Assessment, You Can: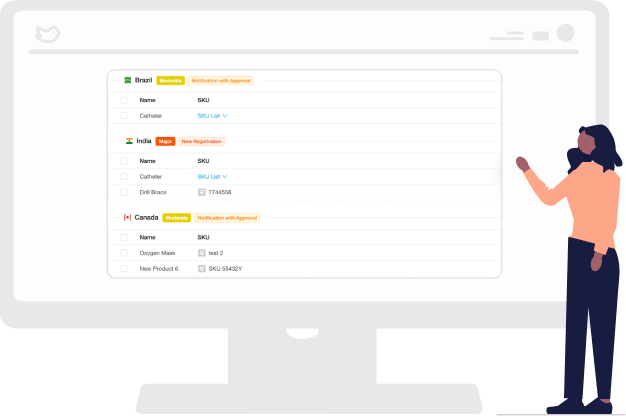 Understand the Impact of Change to an Existing Product
RegDesk Change Assessment identifies and assesses potential risks associated with changes to an existing product; that way, you can evaluate the impact of the proposed changes and develop a strategy to reduce risks.
With the medical device change assessment tool, you can identify and address improvements, understand applicable regulations, and ensure compliance with relevant standards.
Identify Products, Countries, and SKUs Impacted by Changes
With RegDesk, you can easily generate a comprehensive report on how changes will impact your products, countries, and SKUs.  With a "bottoms-up" approach you can identify and quantify the impact of new requirements, including changes to labels or regulatory status.
By identifying potential risks quickly, you can adjust to the proposed changes accordingly.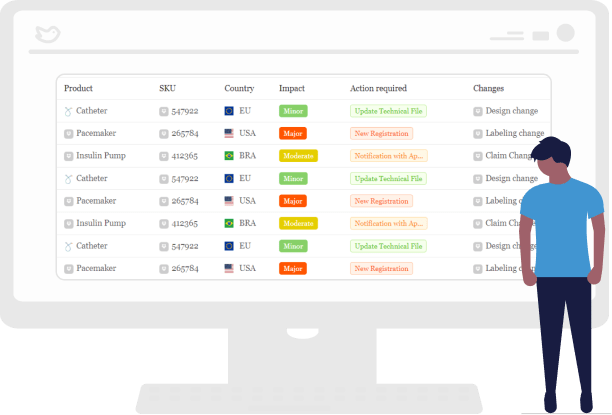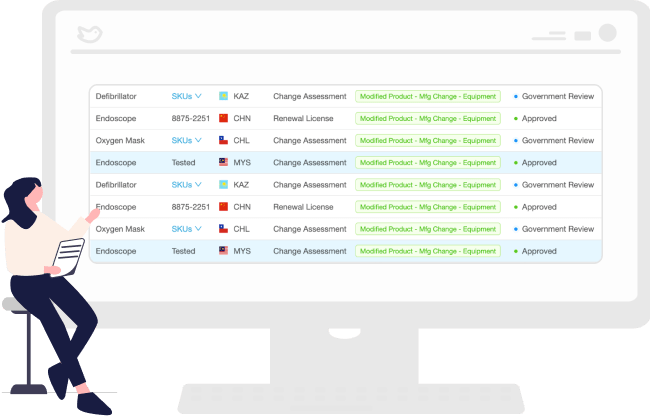 Obtain Regulatory Intelligence Associated with the Change
Powered by AI, RegDesk helps you obtain regulatory intelligence associated with changes. With up-to-date information on regulations in over 120 markets, you can quickly identify and assess implications and develop a comprehensive compliance strategy.
Empower Your Team with Automated Workflows
With automated, configurable change workflows, you can ensure that your changes align with regulations and standards while tracking and monitoring the status of those changes.
This ensures all stakeholders are aware of changes and their implications, thus improving communication and collaboration.  Plus, you'll be able to create and manage change requests, providing a clear audit trail.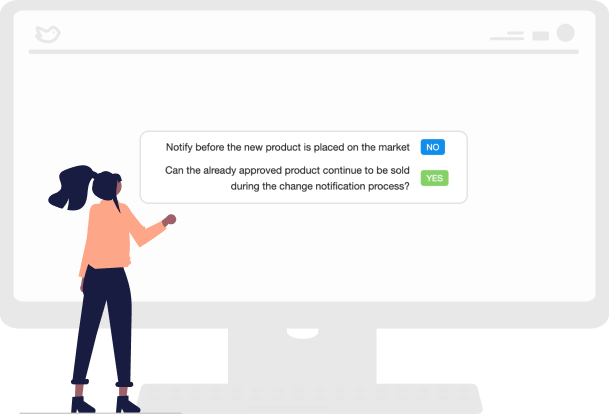 Elevate Your Change Assessment Today
It's never too late to begin streamlining processes and gaining more transparency into changes with the best regulatory change assessment tool available. See for yourself how a change assessment tool can transform the way you understand the impact of your product change(s).
Digitize Change Assessment with Regulatory Intelligence
Regulatory Affairs teams should consider digitizing the change assessment process if they are:

Unable to understand and manage the impact of change(s) to an existing product.

Unable to generate a report to see which products, countries, and SKUs would be impacted by the change.

Wasting time and energy going back and forth with regional partners to understand the impact, managed through spreadsheets.

Missing regulatory intelligence associated with the change.

Failing to manage change control workflows in collaboration with internal and external teams.
Regulatory assessments for medical devices should be a flexible, adaptable process. The right medical device change assessment solution can streamline this essential process no matter the changes that could occur.