RegDesk Regulatory Information Management System (RIMS)
Medical Device Lifecycle Management Made Easy
Unlike standard RIM solutions that only track and manage registrations, RegDesk's RIMS platform offers a holistic approach. It addresses a regulatory team's key needs through a single centralized platform.
Provides you with the most up-to-date, comprehensive regulatory intelligence
Allows you to prepare, manage, and publish global submissions with the power of AI
Tracks registrations and generates reports on your key metrics within seconds
Helps you understand the regulatory impact of changes to your existing products globally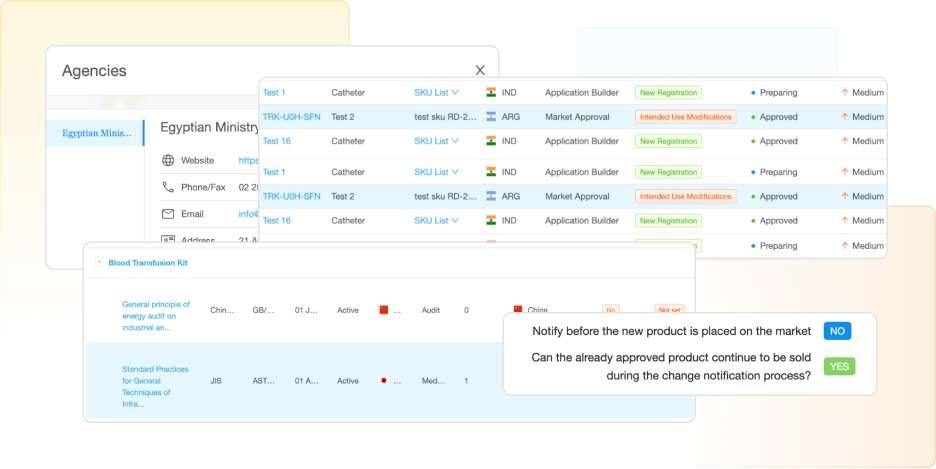 We evaluated many existing platforms. We chose RegDesk because it addresses all our regulatory needs from regulatory intelligence to helping us prepare applications and manage change assessments.
Emily A., Regulatory Affairs Specialist, Fortune
500 Company
Understand the Impact of Change Assessments
RegDesk's Change Assessment tool allows RA teams to understand the regulatory impact of a change internationally and the action required. The integrated workflow makes it simple for teams to manage change assessment projects that have a global impact.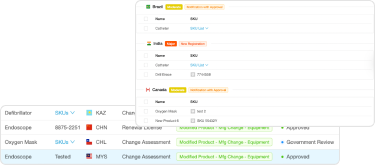 Global Submission Preparation and Management
While most RIMS platforms simply host and track documents, RegDesk provides two different tools to help RA teams prepare, manage, and publish submissions.
AI-enabled submission generator;
Distributor collaboration tool.
RegDesk consolidates requirements into simple, fillable forms. Artificial intelligence automatically prepares jurisdiction-specific and submission-ready dossiers based on product. RegDesk's submission generator automatically prepares the bulk of the submission for subsequent countries using autofill. The distributor collaboration tool provides RA teams transparency and traceability when working with external business partners.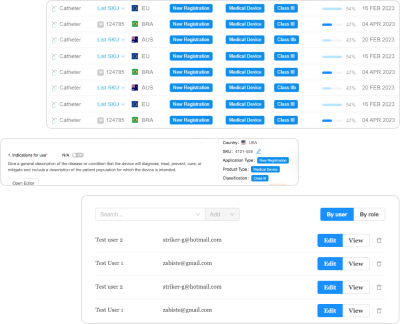 Access to the Most Comprehensive and Up-To-Date Regulatory Intelligence
RegDesk monitors legislations, guidance documents, and standards continuously and provides daily alerts when changes occur, giving instant access to medical devices, IVD, and SaMD requirements for more than 120 countries.
Through RegDesk's regulatory information management software, your RA team will always remain informed, become proactive, and make informed decisions faster.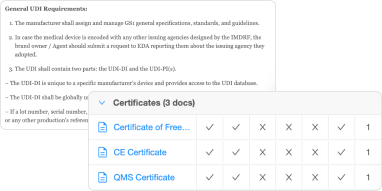 Track and Generate Reports on KPIs
RegDesk tracks your registration status globally and alerts you to deadlines and upcoming registration renewals. Our built-in reporting feature and dynamic dashboard allow RA teams to create custom reports on key metrics within seconds.